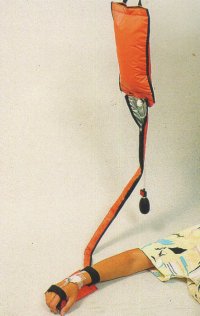 EMERGO
®
Infusion Warmer
Fully insulated cover and sleeve with high pressure system all in one, for infusion bags up to 1 litre.
Maintains temperature of pre-heated infusion solutions, and will also heat fluids with re-usable HeatPacks. At an outdoor temperature of -22ºC the average temperature of the solution rises to about 15ºC when activating both HeatPacks.
EMERGO® Thermobag - 3 litre

Fully insulated case heats and stores 3 - 4 litres of warm infusion solutions. Electronically regulated to maintain temperature up to 38ºC, with digital thermometer and overheating protection. Low maintenance charge when permanently warming/storing. The EMERGO Thermobag has the required CE Mark, Class IIa.

Size:
40 x 12 x 28 cm
Weight:
1 kg
Power Supply:
12v/220v
Options:
Aluminium wall rail (35.5 x 4 cm)
Shoulder Strap
Transformer 220v
The EMERGO® Infusion Warmer and Thermobag have been recognised as standard equipment in Scandinavia since 1987.
Please call us for prices.

Discounts are negotiable.