Product Properties
Thermosoft Stretchers are developed for tough climates and rough handling. The stretchers are hygienic, easy to clean and can be stored over long periods. This product has been developed to meet ergonomic requirements, the need to transfer patients, lifting and lowering requirements, insulation and use on uneven surfaces.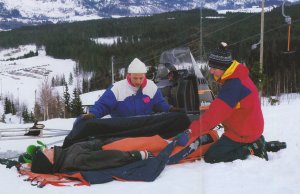 They are simple to manoeuvre in restricted areas, narrow corridors, and through emergency exits, etc.
Compact
Thermosoft Stretchers can be supplied rolled or folded, and take up little space when stored and transported.
Technical Data
Thermosoft Stretchers are made from a laminated sheet of medium density polyethylene and expanded polymeric foam of cross linked closed cells.
This combination gives high tear strength and high bearing load capacity, combined with comfort and thermal insulation.
The material is water and chemical resistant. On exposure to fire or very high temperatures, the stretchers will melt. When burned, water vapour and CO2 are emitted, not hazardous gases.
Thickness of sheet 6mm
Tensile strength 600N/50mm width
Thermal conductivity 0.039W/mK
Working temperature range -40ºC to +70ºC
Patent and design protection