Hartwell Medical Evac-U-Splint® System
Meets proposed CEN Standards
Six reinforced lifting handles
Single strap patient restraint system
Two self-sealing, non-magnetic valves
Totally sealed perimeter edge seam for quick and easy cleaning
Integrated reinforcing slats minimise shrinkage and provide additional support
Unique design allows for immobilisation
Graphic symbols to aid in patient positioning and valve operation
Provides thermal insulation in cold climate rescues
X-ray lucent and MRI compatible
Standard 75cm wide Vacuum Mattress
The Evac-U-Splint Mattress provides fast, effective and comfortable immobilisation by moulding to the specific contours of the patient's body, reducing both pressure point tenderness and rehabilitation time. Conforming design adds to the patient's feeling of security during transport. The mattress provides thermal insulation decreasing the potential for hypothermia. Diagnostic tests can be performed without removing the patient from the vacuum mattress. The Evac-U-Splint Mattress is ideal for patients with suspected neck and spinal injuries, fractured hips, pelvic injuries and back pain.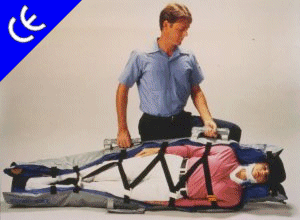 One piece serpentine patient restraint provides for rapid immobilisation and reduces on-scene time. Colour-coded side-release Delrin buckles can be operated with gloves on and the serpentine strap is totally removable for easy cleaning. Folded in its carrying case, the mattress can be easily stored in an interior or exterior compartment of an ambulance or rescue vehicle.
Paediatric Mattress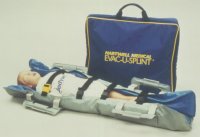 A simple, uncomplicated design enables fast, accurate application of the device. Conforming beads make positioning of the patient in neutral alignment a quick on-scene procedure. Child is held securely and comfortably without unnecessary pressure, thus reducing child anxiety during transport. Filled with thousands of polystyrene beads, the vacuum mattress acts as a thermal insulator helping to maintain the child's core body temperature.
Extremity Splint Set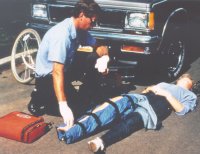 Set of three splints provides a solution to almost every conceivable splinting situation. From dislocated shoulders to angulated wrist fractures, these splints are supple and conforming, yet durable and easy to clean. Duffel-style carry case holds all three splints and compact manual vacuum pump.

All Evac-U-Splint® products come with a one-year warranty.